Dental Implants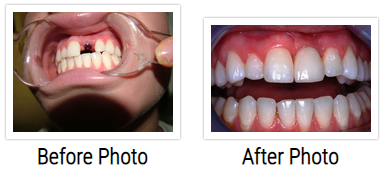 Dental implants represent one of the most outstanding advancements in dentistry. The use of titanium implants in dentistry began in 1965 in Sweden. It came to the U.S. in the 1980's and has been refined and improved ever since. Placement of today's implants is gentle and not difficult for the patient. There is a high success rate. Crowns that are made on these implants are very esthetic and will match nearby teeth very well. It is possible to replace all upper and/or lower teeth with a series of implants and crowns.
Dental implants are titanium cylinders that are gently placed in bone. Then replacement teeth are built on them. These are very successful and can replace one or more teeth. We are able to replace front teeth beautifully with an implant and porcelain crown so that it can't be distinguished from adjacent natural teeth or other crowns. Back teeth can be replaced very well with implants also. See the pictures.

Implants are a team effort. The implant(s) are placed by a Periodontist or Oral Surgeon. I restore the implants. One implant or multiple implants can be placed as needed up to replacements for an entire arch.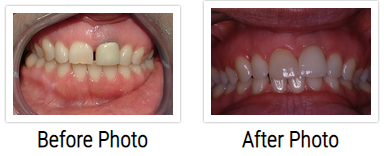 Implant Prosthetics (Placement of teeth on implants)
Dental implants are titanium cylinders that are gently placed in bone. The bone grows right up to the implant and it stays firmly in place. Then we build a tooth on the implant. The tooth will match adjacent teeth.
We are able to place 1 or many implants if bone is available. We often use 3-D CT Scan diagnosis to evaluate available bone in 3 dimensions and see the presence of other anatomic structures in an area.
Implant placement is gentle and is not a difficult procedure for you. Results are usually excellent and long-lasting.